Peace and Freedom
BBC News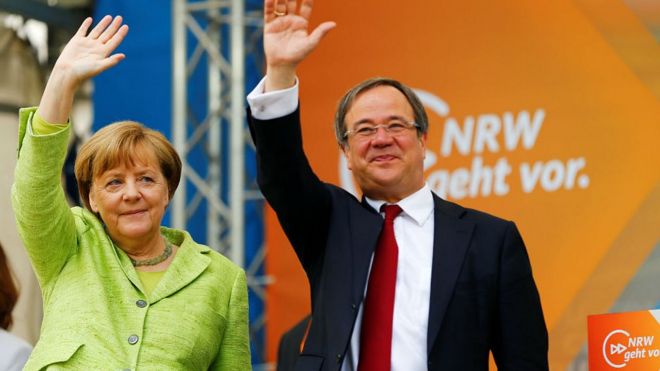 Angela Merkel has been campaigning with CDU candidate Armin Laschet. Reuters photo
Voters in Germany's most populous state are going to the polls in an election seen as a crucial test for Chancellor Angela Merkel.
Polls show Mrs Merkel's centre-right Christian Democrats (CDU) could unseat the centre-left Social Democrats (SPD) in North Rhine-Westphalia.
The SPD has run the state for most of the post-war period.
A CDU victory would be a boost for Mrs Merkel as she seeks a fourth term in national elections in September.
SPD leader Martin Schulz has predicted that if they win in North Rhine-Westphalia (NRW) he will become Germany's next chancellor. The SPD are currently junior partners in Germany's governing coalition.
But the BBC's Jenny Hill in Berlin says the party has been slipping in opinion polls and Mr Schulz may live to regret his forecast.
View original post 170 more words