Reclaim Our Republic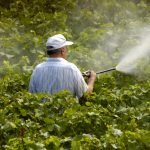 April 14, 2017 by: Dena Schmidt, staff writer
(NaturalHealth365)  This is a major

pesticide warning for all farmers.

  It took nearly six years in the Colorado court system, but justice has finally been served. Rancher James Hopper must pay a $7,500 fine and spend two days in jail for spraying pesticides that drifted onto his neighbor's property.

This "trespassing" of pesticides is in violation of a 2012 court order issued to help protect the owners of the neighboring farm. Gordon MacAlpine and Rosemary Bilchak run an organic farm that was being tainted by the pesticides from Hopper's operation. Additionally, Gordon MacAlpine had been diagnosed with leukemia before moving to Colorado, sparking concerns about what pesticide exposure might be doing to his health.
Setting a legal precedent against pesticide exposure
The 2012 ruling involved a permanent injunction that prohibits pesticide application by James Hopper within 150 feet of the property…
View original post 363 more words